More on more of Keith Tkachuk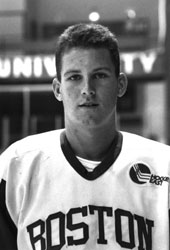 The last thing blogdom needs is another not-so-witty, Tkachuk-is-fat pun as a headline. In case you missed it, however, the National Post's Mark Spector offered today a
scathing inditement
of the now over 260-pound power forward.
As was the case with Todd Bertuzzi after he attacked Steve Moore, Tkachuk's unpopularity with the media is one of the things at play here. Would, for instance, a played like, say, Joe Sakic be the brunt of so many jokes had he shown up to camp overweight? No.
Tkachuk's weight struggles are nothing new — this
team press release from 2001
talks about him being at 16 per cent body fat the year before. His playing weight last season was 231 pounds, an acceptable weight given his body type and playing style.
That said, should Tkachuk be blasted for the current situation he's in now? Absolutely.
Let's just keep in mind that a lot of the venom being spent is tinged with other grievances against the big winger. In Canada, namely that of Tkachuk's role in the demise of the Winnipeg Jets (for which he is still seen as a 'bad guy' by folks in Manitoba). His current bloated salary with the St. Louis Blues, who will likely be one of the Western Conference's worst teams this year, also isn't doing much to endear his critics.
But when teammate Doug Weight
says enough is enough
, he's probably right. A bit of humble pie was probably in order for Tkachuk anyway, but the ubiquitous 'Fatchuck' catcalls have gotten a little ridiculous.
My guess is that the formerly skinny 18-year-old kid from BU rides this out, starts the season with the Blues and puts in another unremarkable 70-point campaign.
And never reports to camp overweight again.
Labels: Sakic