Sean Avery: Gives the finger, gets the ladies
For those who didn't see the shot of LA Kings player Sean Avery strolling through Toronto with actress/puck bunny
Elisha Cuthbert
that was in the Toronto Star earlier this week: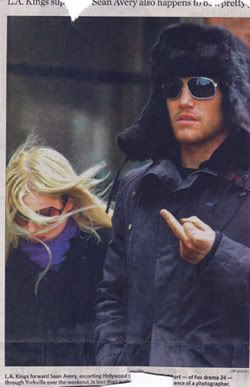 Thanks to
Hockey Will Tear Us Apart
for the image link, although I'm not quite sure what she's talking about here.
Elisa -- girl, there are other body parts to a man besides his mouth. We all know his extraordinary oral talents. Maybe you could be the key in him to use those gifts for good, once in a while. By ... force if necessary.
Then again, maybe I do know what's being said and I'm averting my mind (as opposed to eyes, you see). I think this is about as risque as we ever get around here — this isn't
Golbez's blog o' smut
, after all.