Carolina Hurricanes
2006 Stanley Cup Champions
2006 Stanley Cup Final - Game 7
Hurricanes 3, Oilers 1
Carolina wins series 4-3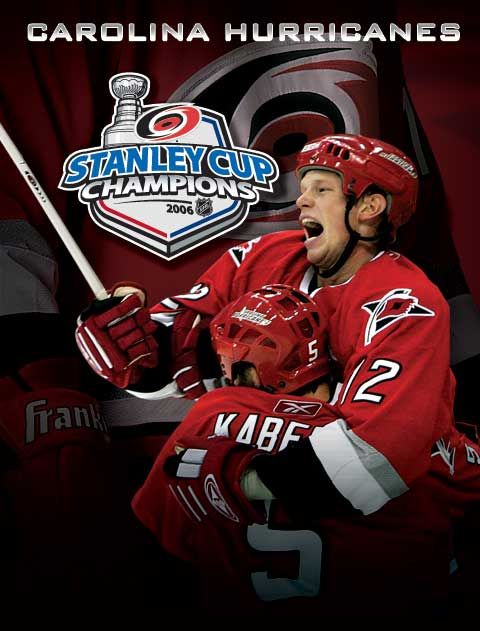 "We got to raise the Cup because of that kid."
- Hurricanes captain Rod Brind'Amour on Cam Ward
F
or all of the wistful odes that will be written today about this series, it's possible to really boil the whole thing down to one simple set of circumstances.

With the Edmonton Oilers down 3-1 to the best home team in the league, the task of winning three in a row — and two of those in Raleigh, N.C. — was virtually impossible.

Two in a row? Sure, that's plausible.

But three?

The Hurricanes had only lost two home games in a row twice all season. Heading into last night's game, they were 40-12-2 at home through both the regular season and playoffs.

Given how stacked the deck was against Edmonton heading into Game 5, it's not unfair to say the series was lost before that point — and not last night.

Not that it matters.

What really confounds is the fact that it was only eight months ago when the Hurricanes were doomed to failure. Of the legions of October predictions for the season, some foresaw a decent season for the Oilers, but none gave Carolina any hope.

This was a roster that didn't have enough offence, was thin on the blueline and had an unproven, career backup in goal (nevermind the eventual Conn Smythe winner, despite his impressive credentials).

Eight months later, you won't find anyone, anywhere calling this an undeserving champion. (To the contrary, as many pundits can be heard proclaiming this as a team for the ages — or at least

the

team of this new NHL.)

In truth, the Hurricanes were underrated by everyone all year, even up until the final series. A 112-point regular season generated few true believers — something that was proven when I scooped up the likes of point-a-gamer Justin Williams near the end of my various playoff pools.

Improbable is the word many are using to describe Edmonton's run this postseason, but the Oilers were a team that added multiple key pieces even before the season began — namely Chris Pronger and Mike Peca.

Carolina's only additions in the summer leading up to the post-lockout season were under-appreciated veterans Cory Stillman and Ray Whitney — and GM Jim Rutherford's inactivity was derided all around.

The Hurricanes are the true Cinderella team this season. It's just that their journey as the underdog started long before mid-April.

I was an early convert to the 'Canes,
writing this in late October
:
A few years back, Laviolette took a dismal NY Islanders club that no one thought could be saved to the playoffs two-straight years.

Prepare for the encore.

Sophomore Eric Staal has certainly arrived as he sits 3rd in NHL scoring with 12 points in seven games. 35-year-old Rod Brind'Amour looks the best he has in years, playing more than 24 minutes a night...

Of course, the real story has been in goal — the very place Carolina's critics said would hold them back. My guess is they hadn't seen Cam Ward tend goal for Red Deer from 2001-04.
(Of course, it's convenient to point to that now instead of sometime during what was a difficult regular season on many nights for the young goaltender.)

Much of the improvement in Carolina's line-up came from within during the lost season: Justin Williams in the SEL, Mike Commodore, Cam Ward and Eric Staal in the AHL, Erik Cole in Germany — the list goes on. To say the signs weren't there would be disingenuous — it's just that many didn't know where to look.


There have been calls for a most-underrated player award in the NHL, and now looking back, this Hurricanes team has a cast full of great candidates: Matt Cullen, Frank Kaberle, Andrew Ladd, Aaron Ward, Niclas Wallin, Commodore, Glen Wesley and Kevyn/Craig Adams
.

All this without mentioning the likes of Rod Brind'Amour, Mark Recchi and Doug Weight, the trio of veteran forwards upfront who really gave Carolina's power play its potency.

It's all tough to take for the Oilers and their phenomenal fanbase. While it'd be nice to see a Canadian club end the 13-year Cup-less drought, Edmonton's trip to the final alone was at least partially satisfying. If anything, what we really learned was that Canada's passion for their NHL clubs had only been strengthened by a year away.

A brief look ahead for both teams doesn't prove kind, as they each have nine unrestricted free agents to try and bring back for one more run.

Then again, who's to say next season it's not a new, currently unheralded team raising the Stanley Cup?
Credit for title image to CarolinaHurricanes.com