McSorley joins Sharks' broadcast team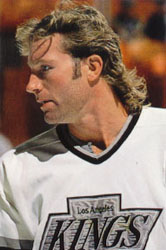 With former San Jose Sharks television analyst Drew Remenda jumping to the CBC earlier this week, the NHL club
has signed up former defenceman/enforcer Marty McSorley
to fill the hole on their broadcast team.
Unfortunately for McSorley, despite playing 17 seasons in the NHL, many hockey fans mainly remember him for a cheapshot to the head of then-Vancouver Canuck Donald Brashear in February, 2000. The incident ended in a conviction for assault with a weapon in a B.C. court, and effectively
ended McSorley's hockey career
.
As ugly as it was, I'm of the same mind as Frank Albin, the Sharks director of broadcasting, who says 'we hope that everyone can move on.'
For every Canucks fan who remembers watching in horror as the incident unfolded six years ago, I imagine that won't be easy.