Recchi's Stanley Cup journal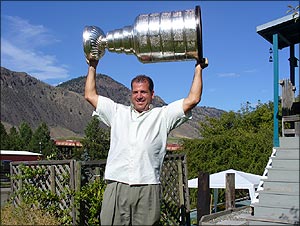 Mark created such a legacy, specifically in his last year of junior, scoring 61 goals, a league-best 93 assists and 154 points, that he was named Kamloops Male Athlete of the Century in 2000... With a mounted patrol escorting him, Mark Recchi lifted the Stanley Cup over his head beneath a street sign reading Mark Recchi Way.
I've been waiting patiently ever since
my visit to Kamloops
, when I saw Mark Recchi parade the Stanley Cup around my hometown, for
the Stanley Cup journal
to be updated with his visit. More than two weeks later,
here it is
.