#1: Marc-Édouard Vlasic
The best players you've never heard of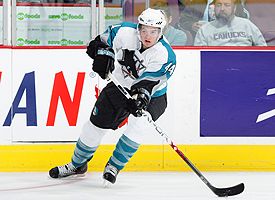 Team:
San Jose Sharks
Pos.:
D
-
Ht.:
6-1
-
Wt.:
195
Hometown:
Montreal
Key stats:
It's not a tough sell job putting this kid at the top of this list. On a San Jose team that is 17-7-0, second best in the Western Conference, Vlasic is playing the third most ice time on the team. On the power play, he gets supplementary minutes — just over two per game — putting him third among Sharks' blueliners, but on the penalty kill, he's coach Ron Wilson's go-to guy and averaging 3:41 per game — the most among defencemen on his team. He leads all NHL rookies in ice time.

Did I mention he just turned 19 years old?

In terms of production, Vlasic has eight points in his first 24 NHL games. He's +3 in what aren't exactly easy minutes and has just four PIMs.


James on
Marc-Édouard
:
The sixth-youngest player currently in the NHL, Vlasic
wasn't even supposed to be in the league this season. No, his junior team, Patrick Roy's Memorial Cup winning Quebec Remparts, desperately wanted him to return for another season, and until training camp, the smart money was certainly on that happening. Then Wilson saw him play.

I run a lot of hockey-related ideas past Tyler Dellow just to bounce things off of another hockey egghead, and the other night I asked him, off-hand, 'What do you think of Marc-Edouard Vlasic so far?'

His response? 'I don't even know who he plays for.'

And that's a shame. I know my Top 10 list ended up ultimately having a ton more defencemen than any other position, but that's because they are often overlooked despite their talents — and that's definitely the case for Vlasic this season. He's the kind of kid that really showcases just how deep the Canadian junior hockey pool — he, after all, didn't make the country's entry in the 2006 World Junior tournament, despite the fact he went on to lead the Remparts with 30-plus minutes ice time en route to the Memorial Cup.

A second-round pick in 2005, Vlasic actually ended up being the compensation the Sharks got for Miikka Kiprusoff when they dealt the netminder to the Calgary Flames. And, as lopsided as that trade seemed even a couple of months ago, the young blueliner has definitely played himself into 'top prospect' territory alarmingly fast. 2005-06 was a breakout campaign for him in the QMJHL, as he went from just five goals and 30 points the previous season to 16 goals and 73 points last year.

He's the real deal, and we're going to be hearing a ton about this kid the next 20-some years. If you catch a Sharks game sometime, keep your eye on the guy wearing #44.


Pub for
Marc-Édouard
:
"He was one of the best defencemen in the Memorial Cup. Anyone that watched that understood how good he could be. [Quebec coach] Patrick Roy played him 30 to 35 minutes a game and that's an endorsement from a Hall of Fame goaltender with an appreciation for great defencemen."

"We don't treat him like a rookie," Sharks defenseman Kyle McLaren says. "The scary part is that he's only 19 and this is his first year. I think people forget that watching him."

"Vlasic wasn't physical, but he always finished his check. The kid never makes mistakes.You tell him something once and that's the last time you have to tell him. His talent is that the game is slow in his mind; he always knows where the puck is going. That's the pro level."