Introducing the anti-all-star team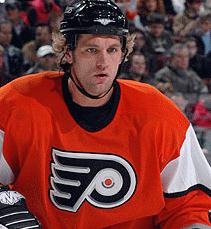 W
hile one game will be featuring the game's best in Dallas on Wednesday, there'll be a group of NHLers convening in Kansas City at the empty, yet-to-be-completed Sprint Center for a game of a different sort: the anti-all-star game.
These are the worst of the worst, the players who have struggled mightily this season, and their goal will be to show Missouri hockey fans just what their potential expansion franchise will look like.
Here are your anti-all-stars, with the Philadelphia Flyers well-represented:
Eastern Conference
Starters
Hannu Toivonen. 4.00 GAA, .881 save percentage.
Derian Hatcher. Is being outpointed by Robert Esche.
Sandis Ozolinsh. Career looks to be almost over.
Sergei Samsonov. One of worst off-season signings.
Mike York. -8 in 14 games since trade.
Kyle Calder. On pace for 23 points, -47 rating.
Reserves:
(G) Marc Denis, Robert Esche (D) Pavel Kubina, Joni Pitkanen, Janne Niinimaa, Darius Kasparaitis (F) Ben Clymer, Vaclav Prospal, Sami Kapanen, R.J. Umberger, Niko Kapanen, Marcel Hossa, Aleksander Suglobov, Marco Sturm, Trent Hunter
Western Conference
Starters
Dan Cloutier. Horror-show season (.860 sv pct.) put out of misery by latest injury.
Adam Foote. -18 after 42 games.
Adrian Aucoin. What on earth happened to him?
Mark Bell. Giving poolies fits across the globe.
Gilbert Brule. On pace for 14-point rookie season.
Brian Willsie. 20-point pace a long fall from last year.
Reserves:
(G) Barry Brust, Ty Conklin (D) Petteri Nummelin, Derek Morris, Oleg Tverdovsky, Jaroslav Modry (F) Nikolai Zherdev, Kevyn Adams, Dave Scatchard, Petr Nedved, Craig Conroy, Joffrey Lupul, Branko Radivojevic, Marc Chouinard, Pascal Dupuis