2007 NHL Trade Deadline
Atlanta acquires Tkachuk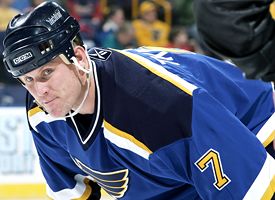 R

eports out of Atlanta
have the St. Louis Blues sending Keith Tkachuk, one of the real prizes of the trade deadline, to the Atlanta Thrashers in exchange for "Glen Metropolit, Atlanta's 2007 1st round pick, 3rd round pick, a 2nd rounder in 2008. There is also a conditional pick based upon whether Tkachuk re-signs in Atlanta or not."
The feeling is that Tkachuk, 34, will slide into the Thrashers' hole as the team's top-line centre, a spot vacated in the off-season by Marc Savard and that was never really replaced. Tkachuk hasn't had an exceptional year this season, as he's on pace for just 27 goals and 58 points, but he's been healthy — which has always been one of the caveats for the big winger.


The deal, as with
the one for Alexei Zhitnik last night
, is at the moment just as much about getting Atlanta to their first playoff berth as it is about succeeding in the postseason. Tkachuk, for his part, has only played past the first round of the playoffs twice in his 15-year NHL career.
He should be a good fit with the high-scoring likes of Ilya Kovalchuk and Marian Hossa, but with just 18 games remaining on their schedule, Atlanta's going to have to gel with their two new additions quickly in order to stay in playoff positioning. Several of the other bubble teams are red hot at the moment, and it wouldn't be all that far fetched to see Carolina, the Islanders and Toronto catch the Thrashers.
For St. Louis — well, there was some talk they would hang onto their pending UFAs to continue the team's unbelievable run under new coach Andy Murray, something that came to fruition with Eric Brewer and Manny Legace re-signing to stay in St. Louis. Dealing Tkachuk was a wise move by team president John Davidson and company, however, given the Blues remain 12 points back in the Western Conference race with only 21 games remaining.
That's essentially still an insurmountable lead.
As for their return, getting a dependable third-line contributer like Metropolit is a plus (although he, too, is unrestricted at the end of this season), as it's the boatload of draft picks which the Blues were really after. Atlanta's first-round pick may even turn out to be in the 12 to 18 range given their slide, which is a decent return for a player who is likely to return to the Blues as a free agent this summer.
It's interesting to see the Thrashers move some of their assets for what seems like the first time ever, but as I said last night, GM Don Waddell has been at the team's helm for their entire existence and he, more than anyone, needs this club in the playoffs this season. Given the number of prospects and picks he's dealt in the past 24 hours, he has to make the postseason in order to justify the losses.
It's going to be close.
Labels: Blues, Metropolit, Thrashers, Tkachuk, Trades