Flyers lock up Holmgren
Paul Holmgren's rebuilding job of the Philadelphia Flyers has earned him a two-year contract extension as general manager.

"In this year of transition for the Flyers, I think Paul has moved quickly and decisively to better our team on the ice and position us for the future," Flyers chairman Ed Snider said in a statement.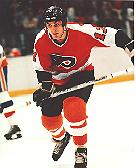 A good choice by Snider et al given Holmgren's savvy moves so far.
I've said this before, but I don't think the Flyers franchise is one that's going to be down for long. With a solid netminder (Marty Biron) poised to sign on and lots of spending room, Philadelphia will be one of the biggest players in the off-season free-agent frenzy.
Following in Bob Clarke's footsteps, Holmgren is essentially a lifer as a Flyer: The St. Paul native was drafted by the organization in 1975 and played his first NHL game for the team the next season, going on to play 500 games as a checking forward in the black and orange.
The year after his playing career ended, he stepped behind the Flyers' bench as an assistant coach for three years, before taking over as head coach from 1988-91. He's been in various management roles with the club since signing on as head scout in 1995-96.
Labels: Flyers