Super Mario, Pittsburgh's hero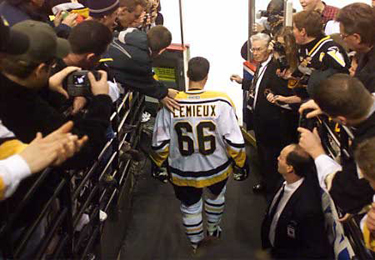 "We went through a lot the last few years and we see that the team is turning around and we want to be part of it," Mario Lemieux said. "Ron wants to be part of it, the ownership group wants to be part of it and I want to be part of it."

E
ric Duhatschek mused yesterday that, with the announced new arena deal for the Pittsburgh Penguins,
perhaps we had seen the last of Lemieux
as owner. And, even today, with Mario expressing his interest in remaining part of the team, the veteran sportswriter has said on Toronto radio that he expects Lemieux to divest himself of some of his ownership stake in the team (if possible).
I honestly don't know what Lemieux's total wealth would equal out to, but it's likely fair to say a majority of it is tied up in owning an NHL franchise, one in a market where things haven't been sunny all to often the past 10 or so years. I think it's relatively safe to say that Mario has significant emotional ties to the team and the city to the point that he wants to remain a part of what's now building there — but that, financially anyway, he needs some sort of payout.
And who can blame him.
But what a story it'll be if Sidney Crosby and company can, in fact, bring the franchise its third Stanley Cup with Super Mario on hand to help them hoist it.