Battling the building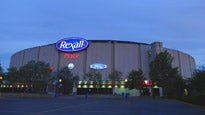 Recently unretired (?) Battle of Alberta blogger Andy Grabia is sinking his teeth into the issue of the proposed new rink for the Edmonton Oilers and the resultant media coverage, and
the results have been interesting
.
Note
this choice passage
from Tuesday night's post:
According to Lamphier, a new arena will also get rid of the "small army of panhandlers or even crack dealers" in the downtown area. He's totally right, of course. They won't stay because of the increase in traffic and public transportation, like on Whyte Avenue. No, no. They'll flee to West Edmonton Mall and St. Albert, and bug those people. Plus, why do something crazy like invest money in solutions to poverty or drug addiction when you can spend over $400 million throwing up a hockey rink for millionaires, and then just chase those disgusting poor people away? That's a much more ethical solution, if you ask me.
I don't honestly think there's one, blanket statement that can sum up my general feelings on publicly funded arenas, but one thing's for sure: Debate on the issue is never a bad thing.
Besides, for all of the genuine discussion of the need for new rinks in places like Pittsburgh and Long Island, the only voices we've consistently heard calling for brand-new digs in Oil-town have come from the ownership group itself.
That in itself deserves a raised eyebrow or two, even if (for now) we keep our pitchforks at bay.
.
Labels: Oilers