A look at Iron Mike
"To win the Stanley Cup is not an easy task; it's a very difficult task that demands abnormal behavior in terms of excellence."

"A hockey coach never has a day off. I prepare myself to have the least bad hair days of any coach. I was on a fast track. To reach an elite level you have to be abnormal. Can you imagine living with that?"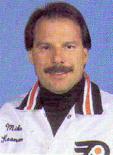 You could say it's an easy thing to pull two quotes like this from an oft-quoted figure, ones in which similar words are used to say different things. But an obsession with the abnormal is a good place to start when it comes to Iron Mike.
After being airlifted into the Calgary Flames' occupied head-coaching position earlier this week, Mike Keenan is back in Canada, back in hockey's spotlight. Given his seven previous NHL stops took him through hotbeds such as Philadelphia, Chicago and New York, it's not something he's unaccustomed to.
But for all of the odes that will be written on Keenan's return (and Al Maki has
a fine one on just that subject
for tomorrow's paper), none will quite get down to the essence of the man the way Pat Jordan's
piece for The Sporting News
did all those years ago:
"My wife couldn't comprehend it. I can't blame her. She'd put up with a lot. So she asked me to give up hockey." He looks up with those pale, blue eyes. "I couldn't give up hockey. It's my life." He sighs again, expressing that defeat known to men whose work is their life in a way some women cannot understand. "So we separated," he says. "Now I cry a lot."

Keenan's arrival in St. Louis 13 years ago was the basis for this cover story, but it's one that ends up being about a whole lot more than a hockey coaching taking up a new position after winning the Stanley Cup.
If you haven't seen it before, it's required reading.
Labels: Flames, Mike Keenan