A vote against the Super Series
Juniors are overtaxed and underserved
I've really only written fleetingly about the Super Series between Canada and Russia to this point, enough to point out the who, why, what and when. But the more I think about it, and the closer to the actual games we get, the more the whole notion of this tournament bothers me.
And here's why:
John Tavares, Oshawa Generals
2007-08 schedule of affairs
Aug. 27 to Sept. 9:
2007 Super Series in Ufa and Omsk, Russia, and Winnipeg, Saskatoon, Red Deer and Vancouver (eight games)


Sept. 3 to Sept. 16:
OHL preseason (six games — Tavares will miss four)


Sept. 28 to March 16:
OHL regular season (72 games)


Dec. 23 to Jan. 6:
2008 world junior tournament in Pardubice and Liberec, Czech Republic (six or seven games)


March 16 to end of May:
OHL playoffs (four to 28 games) and 2008 Memorial Cup in Kitchener (three to six games)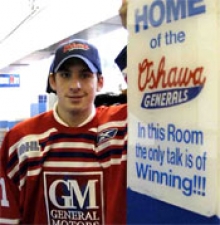 And somewhere in there, the kid who turns 17 during preseason finishes his final year of high school.
That's an absurd schedule for anyone, one which could see Tavares (and many other members of Canada's Super Series squad) play as many as 116 hockey games in nine months.
Eric Duhatschek
has a nice piece
on the series for Saturday's paper, and in it, it's revealed that the various heads of the junior leagues expressed concern over even playing the silly thing.
Which is good. These are the sort of things Dave Branch, Ron Robison and Gilles Courteau should have their eye out for, including ways to both shorten their leagues' schedule and improve compensation and scholarships for junior hockey graduates.
The system as it stands now reeks to high heaven, and there's absolutely only one reason a kid like Tavares has to drag himself through close to 120 games in a season.
It's all about the payoff.
What other reason could there possibly be for a 72-game schedule that sees junior players live out of a Greyhound bus for much of the year? Given these are the top developmental leagues this country has to offer, shouldn't there be more focus on, you know, development? And to me, that includes more than playing to packed houses throughout the land three times a week.
People in and around hockey — and sportswriters are particularly guilty of this — like to rip on NHLers for being blasé, boring and not having anything to say, but we've been doing a huge disservice to our top athletes by tossing them into the Hockey Canada machine at a young age and never letting them develop as people — nevermind hockey players. It's any wonder CHLers manage to finish high school, let alone go on to get a college education, and while a degree may not be the be all when it comes to producing articulate, well-rounded human beings, it surely can't hurt.
When it comes down to it, what more is there to know about Tavares than what we see on the ice? He's still just 16, and that's where he's spent his entire life.
Labels: Super Series, Tavares